+ Sheet music
Bring sheet music you know but want to work on.
Bring sheet music you don't know but want to learn.
Bring 2 copies of all your sheet music (one of which should be a clean copy for your accompanist).
There is typically time for each participant to perform 2 selections at each of the 5 concerts. You are welcome to use these opportunities to try out different pieces or polish up existing repertoire.
The OVAA library contains all Singer's Musical Theatre Anthologies Volumes 1-6 and G. Schirmer Opera Anthologies for all voice types.
Bring an iPad or other tablet if you want easy access to our extensive library of sheet music PDFs. (Free WIFI is available at the hotel and Mundwerk.)
Bring two 3-ring binders, one for your copies, one for accompanist copies. The Germans use a different size of paper, binder, and hole punch, so your American photocopies will not fit in a German binder!
There might be some specific pieces used for group classes, which will be emailed to you in advance.
Feel free to bring music that crosses genres!
+ Schedule
OVAA is a intensive program, but there will be some free time to explore Dresden and the surrounding areas.
Students, when not in lessons, are free to practice and explore.
Classes and lessons are usually scheduled from 9am - 6pm weekdays.
Weekends will include planned, but optional, excursions.
Concerts are generally Thursday and Saturday evenings.
+ Getting around
Dresden has an extensive public transit system. Our hotel is located a short walk or a few street car stops from Downtown Dresden, and our teaching facility "Mundwerk" is 15 minutes away on the street car. (Click the image to the left to enlarge.)
Most concert venues are easily accessible by foot or public transportation.
Our transit pass will cover most transportation within the city.
Excursions will require small additional fees.
+ Flying
Most flights to Europe are overnight. Leave the day before you wish to arrive.
There are no direct flights from the U.S. to Dresden. One stop is typical.
Typical travel time is between 9.5 and 12.5 hours from NYC to Dresden, mostly depending on the layover length.
Cheaper isn't always better. Be aware of multiple stops and long layovers.
Sometimes you can save money traveling a day early and/or leaving a day later. Though OVAA doesn't cover the extra hotel cost, it might be worth the savings.
If you'd like to travel with fellow OVAA attendees, contact info can be provided upon request.
There is a commuter tram from the airport's basement (end station) to the Main Train Station (Dresden Hauptbahnhof), which is directly in front of our hotel. Intercity Hotel
+ Jet Lag
Sleep as much as you can on the flight to Dresden.
Stay awake until 10 or 11 pm the day you arrive. Daytime naps aren't recommended.
OVAA has planned a city tour on the arrival day to help keep you awake!
Drink plenty of water to stay hydrated!
The OTC supplement Melatonin can help you adjust to a new time zone, when used correctly.
+ Packing DO's
Pack anything important plus a day's worth of clothing in your carry-on in case your luggage is delayed.
Make sure to weigh your luggage before you get to the airport to avoid paying extra fees. Check the TSA website for up-to-date guidelines and restrictions.
Remember that you'll be carrying your luggage up and down stairs in airports and train stations. Pack light enough that you can carry your suitcase(s) yourself!
If you take any medications, be sure to bring enough for the duration of your time in Germany. You can also bring an extra prescription with you in case you lose your medication.
Remember your German textbook.
Pack a small notebook to use in German classes.
Bring sheet music you already know.
Bring sheet music you want to learn.
Bring two 3-ring binders, one for your copies, one for accompanist copies. The Germans use a different size of paper, binder, and hole punch, so your American photocopies will not fit in a German binder!
Bring an iPad or other tablet if you want easy access to our library of sheet music PDFs. Free WIFI is available at the hotel and Mundwerk.
Do bring a travel adapter! Different European countries use different types, so make sure you have the right kind for Germany.
Bring a good camera if you enjoy taking photos, since Germany has plenty worth photographing!
Bring clothing appropriate for performances in palaces! This means at least one jacket or suit for guys and at least one floor-length dress for ladies. (Remember we take a lot of pics during performances that you can use for future publicity materials.)
Bring at least one pair of good walking shoes, since there will be a lot of walking in and around Dresden, and sturdy shoes for hiking and other excursions.
July weather in Dresden tends to be moderate with cool evenings and occasional showers. Bring a light jacket and pieces you can layer. (Click the image to the left to enlarge.)
There is a hotel laundry service, and several less-expensive laundromat options throughout Dresden.
+ Packing DON'T's
OVAA will keep you pretty busy, so don't pack too many extra things to pass the time. A deck of cards may be a good idea, but a hardcover copy of War and Peace (even in German) is something you'll only read in the airport or on the plane.
Don't pack every single Musical Theatre or Opera Anthology for your voice type. We have them (yes, all of them), and you can copy what you need.
Don't bring more than a three-week supply of toiletries. Dresden is a large enough city that you'll be able to pick up anything you need from drugstores and grocery stores. (That said, they don't carry every American brand, so if you have any favorite products you absolutely have to use, bring those.)
Don't bring a hair dryer; our hotel rooms will have them.
+ Credit Cards/Cash
The unit of currency in Germany is the Euro (€).
We recommend arriving with some Euros in hand, though you can withdraw Euros from an ATM once you arrive in Germany.
Euros can be obtained at your local bank, though many require advance notice.
Inform your credit card companies and banks before you travel abroad, or they may see your foreign transactions as suspicious and place a hold on your accounts.
The German word for "ATM" is "Geldautomat"!
Many banks and credit card companies charge "foreign transaction fees," some do not. Check with your credit card company to see what their policies for international transactions are!
Debit and Credit cards must have an embedded chip (added security). If your debit and/or credit card does not have the embedded chip, contact your bank and request one.
Some stores in Dresden will not take credit cards at all, so it's smart to keep some cash on hand.
+ Passports / ID's
Keep your passport on your person when traveling to Germany. Do not put it in your checked luggage!
Make three copies of your passport: bring one with you, leave one at home, and email or give a hard copy to OVAA staff for us to keep on file.
Passports must be valid for a six-month period after your departure date.
It is strongly suggested that students accquire a valid International Student ID before leaving the states. (e.g. www.isic.org)
A valid International Student ID is the only way to get a lower rate on many things. For example, a museum pass costs €50 without and €20 with the ID. An American college ID is not considered valid because it doesn't show dates of enrollment.
+ Cell phones
The SIM card on some cell phones may be swapped out for a German SIM card. Check with your cell provider to see if yours is a locked device.
If you have an unlocked phone with a SIM card slot, you can bring it with you and use it while you're in Dresden. German pay-as-you-go plans start at €15.
Unless you've chosen an international calling and/or data plan, using international roaming while in Europe is often very expensive! Check your plan's international rates before you go to Dresden to avoid being surprised by your next phone bill.
Having a cell phone during your time in Dresden is a matter of convenience and not necessity!
+ DO I HAVE TO/GET TO PERFORM ON EVERY CONCERT?
OVAA believes in the artist's choice when it comes to performing. The concerts are programmed to give each singer the chance to perform pieces they've been working on. We encourage you to perform as much as possible, but the choice is entirely up to you.
+ WHAT WILL I PERFORM AT THE CONCERTS?
The faculty will collaborate with you on your choice of repertoire. You have the chance to perform a different piece at each performance or even sing the same piece every time.
+ WHAT IS APPROPRIATE CONCERT ATTIRE?
You are encouraged to present yourself professionally and artistically by wearing formal concert attire or even a costume appropriate to your selection. Keep in mind that some of our concert venues are palaces. With this in mind, go crazy with the bling!
Food and Drink
OVAA'S TOP PICKS FOR...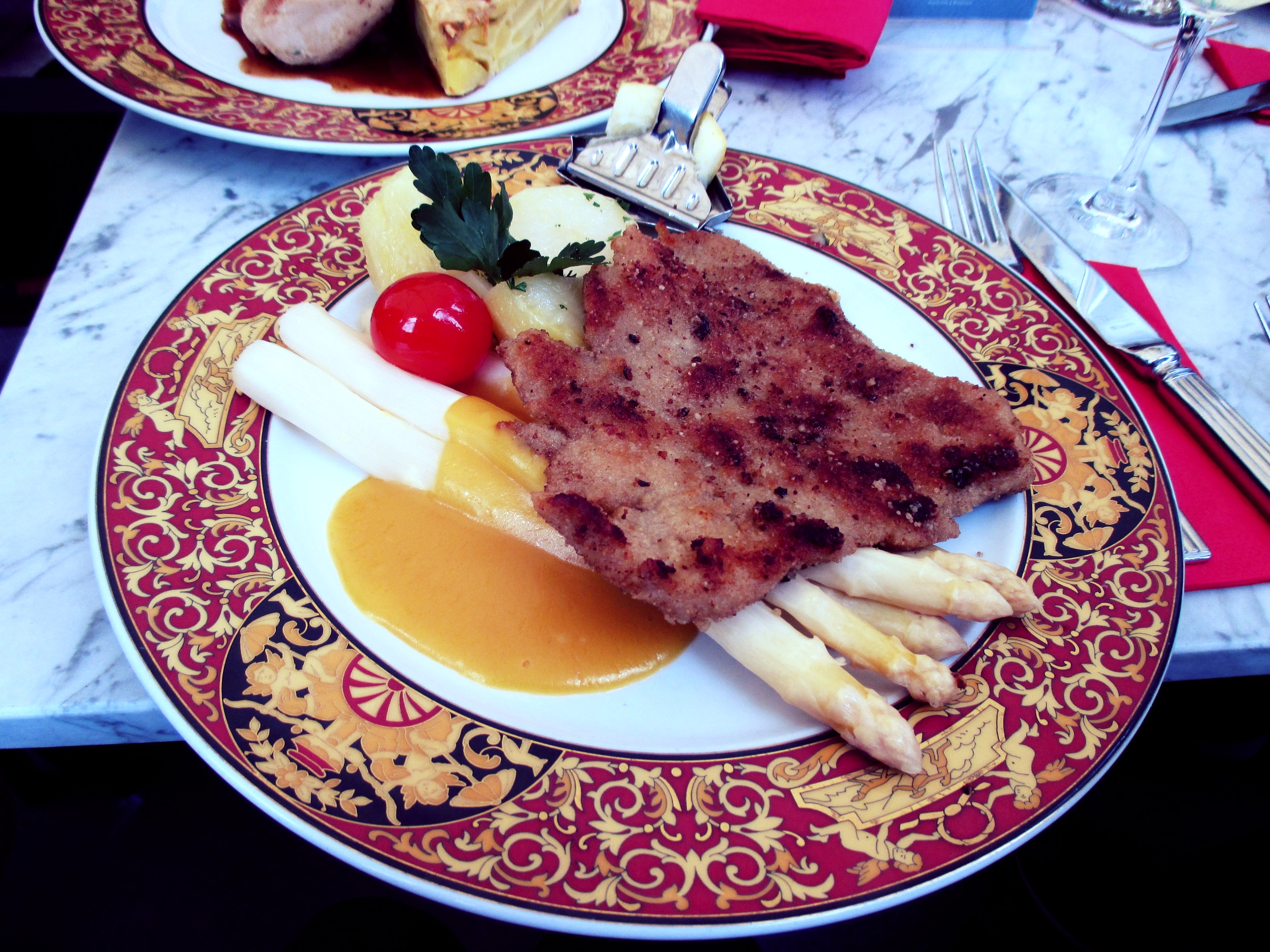 Ultimate pleasures of the PALATE
+ Food (essen)
Braumeister Schnitzel (breaded steak stuffed with ham and cheese)
Döner Kebap (a German/Turkish version of the gyro)
Bretzel (pretzel)
Wiener Schnitzel (breaded steak, either veal or pork)
Wurst (sausage)
+ Drink (Getränke)
Hugo (a refreshing summer cocktail of champagne and elderflower syrup)
Apfel Schorle (apple juice mixed with sparkling water)
Hefeweizen (wheat beer)
Radler (beer spritzer)
Eiswein
Other assorted beers
+ Cake (Kuchen & Torten)
Pflaumkuchen (plum cake)
Mohnkuchen (poppy seed cake)
Dresdner Eierschecke (egg custard cake)
Schokolade (everything and anything with chocolate)
Apfelkuchen (apple cake)
Obst Torte (fruit torte)
+ Restaurants
Beer Garden im Grosser Garten
Gänsedieb
Augustiner an der Frauenkirche
Lingnerschloss (Lingner Palace)
Cosel Palace
And a variety of other restaurants specializing in local and international cuisines
+ WHY "ORFEO"?
Orfeo (Orpheus) is known for being the Musician to the Gods and an archetype of the inspired singer. What better muse for a vocal intensive?!